News

SPRING/BREAK Art Show 2017
New York City's curator-driven art fair during Armory Arts Week
4 Times Square (former Conde Nast Building)
Entrance on 43rd Street
New York, NY 10036
"Apartment 2L" Debra Zechowski
Curated by: Joyce Chan
Room #2216
March 1 – 6, 2017 | Daily Hours
Daily VIP Hour    11am – 12pm
(Physical VIP Cards from SPRING/BREAK, Armory, VOLTA, NADA, Indepedent accepted during VIP Hour)
Daily Hours    11am – 6pm
Proceeds from guest passes help support our initiative to offer free exhibition space to independent curators. We appreciate your continued support of our program!
Oscar Wilde famously suggested great art 'reveal beauty and hide the artist'. Join us for the 2017 SPRING/BREAK Art Show exhibition of BLACK MIRROR , where more than 100 curators feature artworks that explore the dance of identity the artist undertakes — between showing what's unseen and hiding in plain sight — especially in the face of modern technology, political unrest, and glimmers from ghosts of Art History's past.
Fulfilling SPRING/BREAK's mandate to roost art culture within atypical environments and underused spaces, you are invited to join us at 4 Times Square March 1-6, 2017.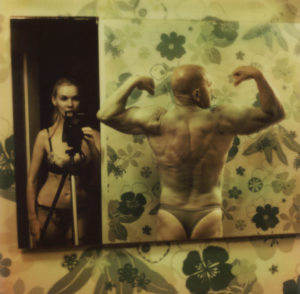 'Mirror' by Aneta Bartos      
 'Ma With Bart Simpson T-Shirt'by Debra Zechowski            
 'Stuntin Like My Daddy' by Alex Sewell
————————————————————————-
View my Story: on the New-York Historical Society's Chinese American: Exclusion/Inclusion website http://chineseamerican.nyhistory.org/joyce-chan/
—————————————————————————
Some writing about food, experiences, travel, etc.: http://www.chjoyces.yelp.com