News
"What is that leaping in your chest?"
Susan Anthony, Fern T. Apfel, Simone Bailey, Joyce Chan, Ryan Chase Clow, Megan Galbraith, Alexandra Hammond, Tatana Kellner, Darian Longmire, Rob O'Neil, Fernando Orellana, Vincent Romaniello, Allie Wilkenson, Holly Wilson, Quay Quinn Wolf, and Mike Yood.
Guest Curated by Alexandra Foradas, Assistant Curator at Mass MOCA
November 10 – December 30, 2017
Opening Reception: Friday, November 10, 5-8pm
Collar Works /// 621 River Street /// Troy, NY 12180
Gallery Hours: Thursday + Friday, Noon -6pm. Saturday, Noon -4pm. Other times by appointment.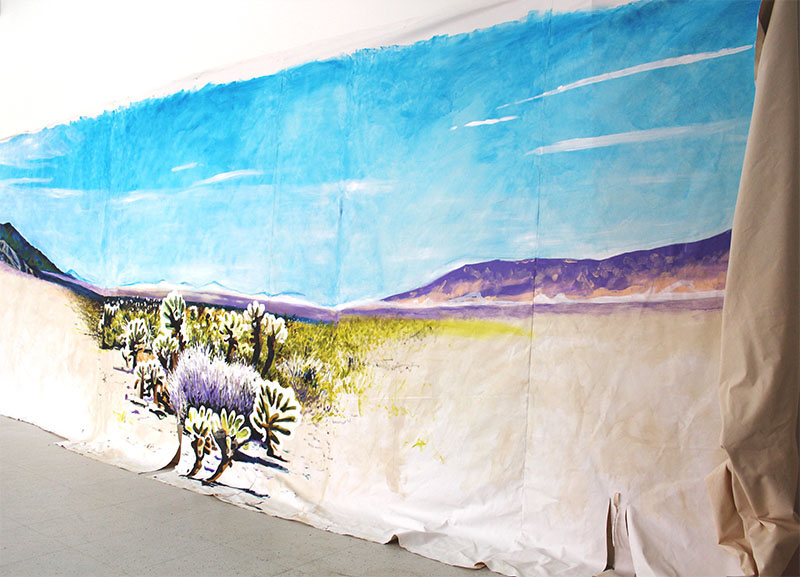 Curatorial Statement
Why and by whose power were you sent?
What do you see that you may wish to steal?
Why all this dancing? Why do your dark bodies
Drink up the light? What are you demanding
That we feel? Have you stolen something? Then
What is that leaping in your chest? What is
The nature of your mission?
From Tracy K Smith, "The United States Welcomes You"
When he coined the term "American Dream" in 1931, historian James Truslow Adams described it as "a dream of social order in which each man and each woman shall be able to attain to the fullest stature of which they are innately capable, and be recognized by others for what they are, regardless of the fortuitous circumstances of birth or position."
Ever since, if not before, the status of the American Dream has been in question. Is it truly a promise offered to all? Or is it just that, a dream? To quote Malcolm X speaking in 1964 and, more recently, Bernie Sanders: was America always for some, or has it become, a nightmare?
Can we tell our children, in the words of the United States' 44th president, that "America is big enough to accommodate all their dreams," or is the American Dream, in the words of the 45th president, "dead"?
In a moment where the circumstances of individuals' birth and position are increasingly the focus of scrutiny, the artists in this exhibition interrogate the uncertainty of access to the American Dream.
Alexandra Foradas, Curator
Alexandra Foradas is Assistant Curator of Visual Arts at MASS MoCA, where she has organized exhibitions including Bibliothecaphilia (2015), Janice Kerbel: Slip (2017), and Jenny Holzer (2017), and co-curated the exhibition Gunnar Schonbeck: No Experience Required (2017) with Mark Stewart. Her upcoming projects include exhibitions of work by Robert Rauschenberg and Taryn Simon. She holds an MA in Art History from Williams College.
———————————————————————————————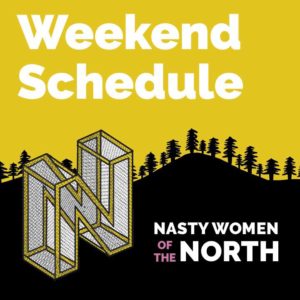 Nasty Women of the North Exhibition
October 26-29, 2017
Opening + Auction: FRIDAY, October 27th 5pm-9pm
Collar Works /// 621 River Street /// Troy, NY 12180
Gallery Hours: Thursday + Friday, Noon -6pm. Saturday, Noon -4pm. Other times by appointment.
The exhibition features local and international artists, Curated by Angel Bellaran, curator for "the original" Nasty Women NYC show at the Knockdown Center in Queens. 100% Proceeds benefit Upper Hudson Planned Parenthood, all artwork is priced between $25 and $100.
The Feminist Art Project of Upstate NY is excited to organize a group exhibition that serves to demonstrate solidarity among artists who identify with being a Nasty Woman in the face of threats to roll back women's rights, individual rights, and abortion rights. It will also serve as a fundraiser to support The Upper Hudson Planned Parenthood during this uncertain time. 100% of sales from artwork will be donated to our local Planned Parenthood.
All events (films, performances, etc) are open to the public. Donations are greatly appreciated- give what you can.
More Information & EVENT SCHEDULE at http://collarworks.org/current/
———————————————————————————————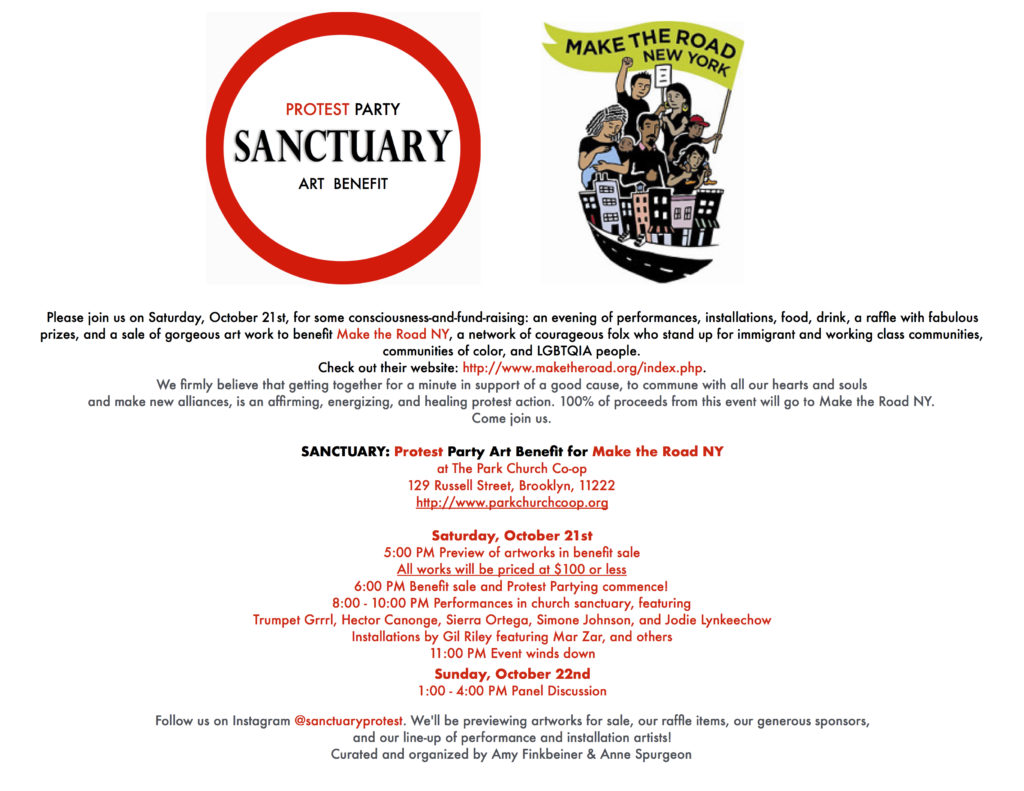 ———————————————————————————————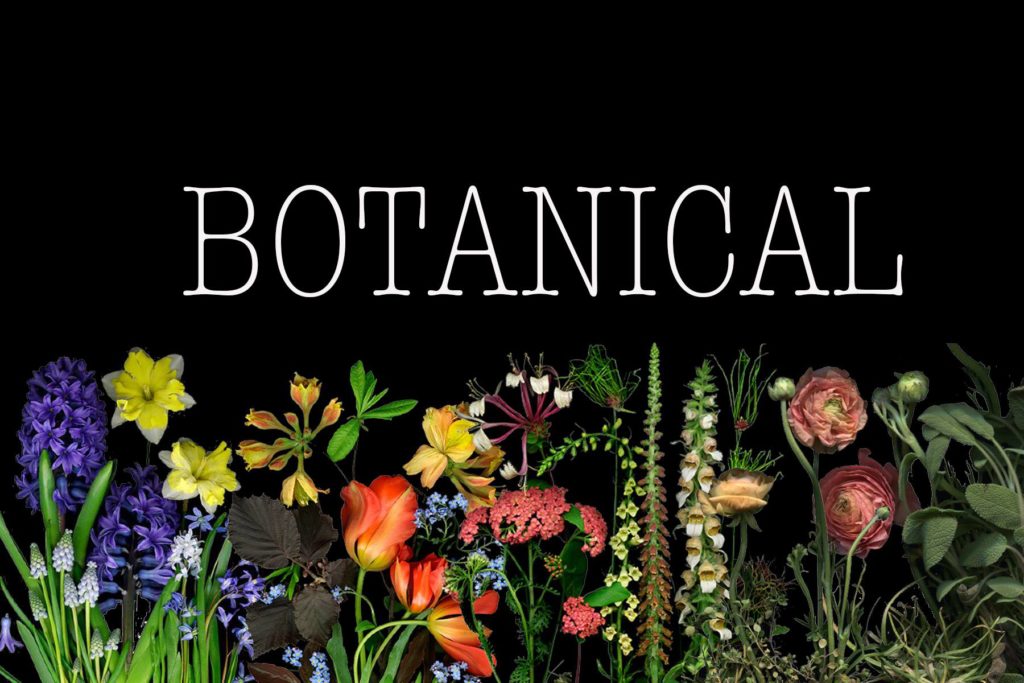 Curated by Joaquin Goldstein
Opening reception: Thursday Oct 19, 6-9pm
On View through Nov 11
Gallery hours Wed- Sat 12-6pm
Music event Nov 4, 8-11pm
Closing potluck dinner, Nov 11 4pm
Adam Cable, Allen Zatko, Anderson Correa de Araujo, Beverly Boydston, Carter Thornton, Colleen Cunningham, Cristina Ferrigno, Dana Stirling, Deanna Lee, Deborah Wasserman, Elizabeth Bisbing, Erica Roe, Gayla Martin, Glen Goodenough, Hedwig Brouckaert, Ivan Sikic, Jana Astanov, Janice Quiles-Reyes, Jenny Kroik, Joanne agabs, John Baber, Joyce S Chan, Julianne Nash, June Kosloff, Keith Pavia, Kristen Bartley, Leslie Tucker, Lobina Kaniz Kalam, Maria Liebana, Margaret McCarthy, Margaux Panel, Mary Pinto, Mikiodo, Ming-Jer Kuo, Miriam Ancis, Nan Xu, Nina Dine, Patricia Iranzo, Patrick Neal, Paul Anagnostopoulos, Paul Nicholson, Rick Anthony Diaz, Rebecca Shavulsky, Robin Cole, Shannon McBride, Sheila Ross, Stephanie Pecora, Suzanne Pemberton, Taissia Basaria, Yael Dresdner, Zoa Martinez.
Local Project Art Space
11-27th 44th Rd
Long Island City, NY 11101
www.localproject.org
between 21st and 11th Street
take E,M,G or 7 train to Court Sq
———————————————————————————————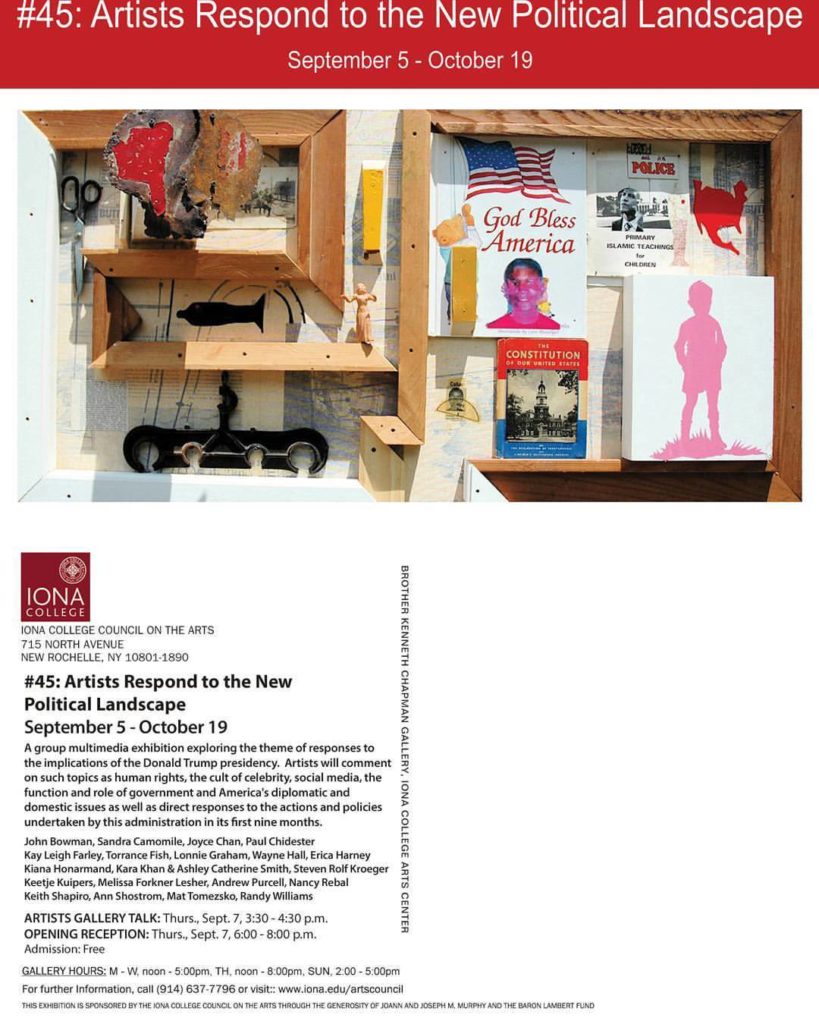 #45: Artists Respond to the New Political Landscape
September 5- October 19
Brother Kenneth Chapman Gallery
Iona College
715 North Ave. New Rochelle, NY 10801
OPENING RECEPTION: Thursday, September 7, 2017
6:00pm-8:00pm
GALLERY TALK: 3:30pm-4:30pm
ARTISTS: John Bowman, Sandra Camomile, Joyce Chan, Paul Chidester,
Kay Leigh Farley,Torrance Fish, Lonie Graham, Wayne Hall, Erica Harney,
Kiana Honarmand,Kara Khan & Ashley Catherine Smith, Steven Rolf Kroeger,
Kettje Kuipers,Melissa Forkner Lesher,Andrew Purcell, Nancy Rebal,
Keith Shapiro,Ann Shostrom, Mat Tomezsko, Randy Williams
———————————————————————————————

SPRING/BREAK Art Show 2017
New York City's curator-driven art fair during Armory Arts Week
4 Times Square (former Conde Nast Building)
Entrance on 43rd Street
New York, NY 10036
"Apartment 2L" Debra Zechowski
Curated by: Joyce Chan
Room #2216
March 1 – 6, 2017 | Daily Hours
Daily VIP Hour 11am – 12pm
(Physical VIP Cards from SPRING/BREAK, Armory, VOLTA, NADA, Indepedent accepted during VIP Hour)
Daily Hours 11am – 6pm
Proceeds from guest passes help support our initiative to offer free exhibition space to independent curators. We appreciate your continued support of our program!
Oscar Wilde famously suggested great art 'reveal beauty and hide the artist'. Join us for the 2017 SPRING/BREAK Art Show exhibition of BLACK MIRROR , where more than 100 curators feature artworks that explore the dance of identity the artist undertakes — between showing what's unseen and hiding in plain sight — especially in the face of modern technology, political unrest, and glimmers from ghosts of Art History's past.
Fulfilling SPRING/BREAK's mandate to roost art culture within atypical environments and underused spaces, you are invited to join us at 4 Times Square March 1-6, 2017.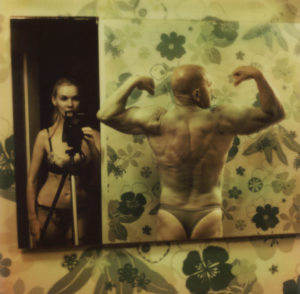 'Mirror' by Aneta Bartos 'Ma With Bart Simpson T-Shirt'by Debra Zechowski 'Stuntin Like My Daddy' by Alex Sewell